Another fun-filled Friday night feast at the Modern Language  School! French students and their guests had a feast of wine, small plates, learning and laughter. Showing that being an "expert" is not a pre-requisite to learn and enjoy wine tasting, the evening showcased delicious wines from the main wine-producing region in the world.
WHITES
The evening's 3 white wines were Picpoul de Pinet, Viognier and Marsanne, three very different styles, so the group were divided on which was their favourite.
The whites were accompanied by crisps, crudities and dips, quiche, cheese straws (including some delicious home-made ones from Jane) and olives.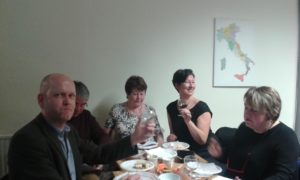 REDS
The French class bell, a hand held golden bell which often brings French classes back to order, came into use regularly as we moved on to the 3 red wines, Costières de Nîmes, Carrigan and Saint-Chinian-Roquebrun.
All the wines were bought from Majectic Wines and most of the food from Sainsbury's. Some participants had brought food, such as breadsticks, crisps, etc. To accompany the red wines, we had pavé (a peppery French salami), Ardennes pâté, garlic sausage, vegetarian pâté, camembert, grapes and goat's cheese.
The evening's end, as ever, came sooner than expected and everyone, even the people who were not tasting wine, had a happy grin and rosy cheeks.
THE TEAM
For me, a big plus of the evening was for French students to meet the whole French team at the Modern Language School: Nina has been teaching with us for 3 years now and Gwen will be joining us in September. Both of them are fully qualified, experienced teachers, with the added bonus of being friendly and charming.
Nina and Gwen helped me pour out the wine, while Matt, my lovely partner, served the food. So all our students had to do was sit back and enjoy the experience.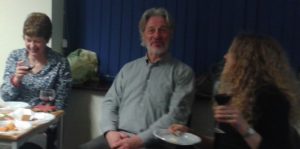 INFO
If you wish to access Friday's wine tasting document (wine tasting tips, regional description, links to relevant videos, wine descriptions and tasting notes) please email me at french@modernlanguageschool.co.uk .
A votre santé!