Says Julie, former French student at the Modern Language School and now living her dream in France. She is pictured here at the end of our 2016-2017 Elementary Plus French course.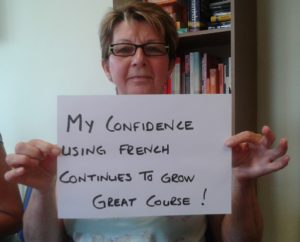 Here is what Julie says about how she is achieving her dream.
For the past 10 years I have been visiting the Limousin region of France with family and friends. It had always been my dream to one day move permanently to France to work or even better retire!
Despite this I never made any attempt to learn the language. I had some memory of my classes at school but they were distant memories!
I married my husband Keith in 2016. He had the same dream as me and we decided to put a 5 year plan in to place to ensure we made our dream come true.
With our plan in place I enrolled at the Modern Language School on Dom's Monday afternoon class to make sure I could speak some French by the time we made the move.

Keith at the local crêperie

Straight away I knew it was the right place for me to learn. Dom's teaching style was fun and innovative which makes things easier for me to understand and it was a great group of people to learn with.
During a visit to the Limousin in July 2017 we were invited to visit a friend in the South Charente. This was not an area we were familiar with but as soon as we arrived we fell in love with the region. The friend was selling up and initially we made an offer on her house but that fell through. We did however return to the area in November 2017 and viewed 12 houses in 2 days – exhausting!!

The house

The 1st house we viewed turned out to be "the one" and within 5 months we had signed and started work on the house. Keith is a builder, which helps, and after 2 visits it became too difficult for us to pull ourselves away for the house we so wanted to live in permanently.
At the end of October 2018 we packed up and left for our home in France.
Without a doubt the knowledge I gained from Dom has made the move so much easier. Shopping, telephone calls, discussing planning permission with the mairie!! and so many other things I did not think I would ever be able to do in French, I have done.
Life is so much richer when you have an understanding of the local language. My confidence has grown and I am always throwing myself in to any conversations to help expand my vocabulary.
Keith and I are now building a holiday rental property to allow people to come to this wonderful region and experience this tranquil, peaceful way of life.
For more info on Julie and Keith's property in France, go to www.facebook.com/LPCdesReves/