When you are learning a language at the Modern Language School, you find out more and more about the country's culture and traditions. A delicious way of discovering these is to sample the savours of the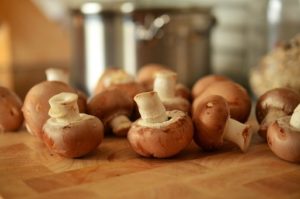 country and even have a go at cooking some specialities yourself. At the Modern Language School, we have been running some pleasurable cookery events of which the Italian evenings seem the most popular – there is an Italian cookery event planned for Friday the 7th of October – but just don't wait for our special dates and try your hand at our selection of recipes from Japan, Italy, Spain, Germany, Portugal and France.
Chicken chasseur
The word 'chasseur' derives from the French word for 'hunter', therefore it makes sense that the dish is one of France's most iconic culinary offerings. The tasty chasseur sauce has traditionally been paired with venison, rabbit and other game meats. However with this recipe we will be creating a simple yet delicious chicken based dish you can allow to simmer in one pot. Legend has it that when returning from the hunt, the hunters would pick the mushrooms they would then use in making the dish that evening.  We recommend you enjoy this hearty meal best by pairing it with creamy mash or freshly baked French bread!
Ingredients
1 tsp olive oil
25g butter
4 chicken leg
1 onion, chopped
2 garlic clove, crushed
200g pack small button or chestnut mushroom
225ml red wine
2 tbsp tomato purée
2 thyme sprigs
500ml chicken stock
Prep: 20 mins
Cook: 1 hr 30 mins
Method
Heat the oil and half the butter in a large lidded casserole. Season the chicken, then fry for about 5 mins on each side until golden brown. Remove and set aside.
Melt the rest of the butter in the pan. Add the onion, then fry for about 5 mins until soft. Add garlic, cook for about 1 min, add the mushrooms, cook for 2 mins and add the wine. Stir in the tomato purée, let the liquid bubble and reduce for about 5 mins, then stir in the thyme and pour over the stock. Slip the chicken back into the pan, then cover and simmer on a low heat for about 1 hr until the chicken is very tender.
Remove the chicken from the pan and keep warm. Rapidly boil down the sauce for 10 mins or so until it is syrupy and the flavour has concentrated. Put the chicken legs back into the sauce and serve.
http://www.bbcgoodfood.com/recipes/9100/onepot-chicken-chasseur