Why do so many of us do it?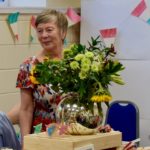 Organising a fund-raising event is a lot of extra work on our already busy schedules.
With the decision to arrange one for the 22nd of June, instead of the usual November / December, were the Modern Language School taking too much of a gamble?
Our two main reasons: it was the first anniversary of the school move to Honley; many of us are busy in winter with events at schools, work place, with friends and family, etc.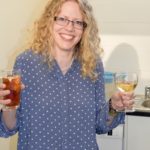 Our main worry: some language learners go on holiday abroad in the early summer. Would it mean more people unable to attend than during November and December?
What happened?
So, from mid-April to 22nd of June we got very busy.
Thanks to the generosity of our students and of several local businesses[i], The Modern Language School was able to raise £775 for Kirkwood Hospice.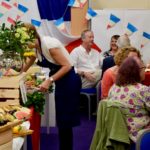 The funds were raised through the sale of tickets for the event to students and their friends/ family, a few cash donations and through prize donations for the raffle from the local businesses listed below.
The party took place at the school itself, in Queen Square Business Park, Honley, the new home of the Modern Language School since last July.
The highlights of the party: drawing the raffle with its amazing prizes and the sumptuous buffet provided by Salute Catering, a new and talented local business. Salute Catering provided a plentiful buffet, excellently presented and just delicious. They accommodated all dietary requirements and even looked after the room decorations.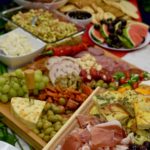 To conclude
Although the school would have loved to raise lots more money for Kirkwood Hospice, we will be proud to present a £775 donation, thanks to our students, the caterers and the local businesses.
Also, everyone had a happy time celebrating one year of learning French, German, Italian, Portuguese and Spanish in Honley.
[i] The kind donators to the raffle were
Andrews Greengrocers Holmfirth

Bargain Booze Holmfirth

Body & Sole (hairdressing) Holmfirth

Body & Sole (massage) Holmfirth

Brindon Addy's Butcher Holmfirth

Devour Thongsbridge

HD Nine Massage Holmfirth

Imagine Toy Shop Holmfirth

Italian Bookshop – London

Mustard and Punch Honley

Phoenix Squash and Fitness Honley Read Holmfirth

Social Progress Honley

Talk Active

Taylors Food Store Honley

The Chocolate Box Holmfirth

The Hair Room Holmfirth