Written French:
Over the summer, I asked my more advanced students to write piece of French, on any subject, to keep their hand in. We don't do much writing during term time and I thought it would help students recall some of what we studied in the year. From the results, it seems to have done so.
I received lots of very different pieces, all most interesting and all in superb French. I am not saying perfect; I have amended everyone's production, but all were of a high standard.
Catherine
If people are interested, I might publish more of those pieces, with their author's consent.
But today, I would like to share this one, from Catherine, with everyone, as it raises a subject still fresh in our minds, the moor fires, and another one which will run for a long time, the environment.
I have added some of my pictures, just to break up the text.
Catherine's article: L'eau
Mon été a été dominé par l'eau et son effet sur moi. Je n'y avais jamais pensé avant.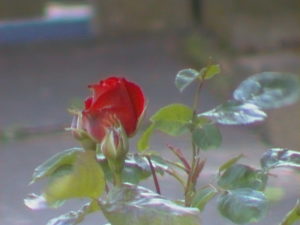 Dans ce pays, pendant cet été, il n'a pas plu pendant beaucoup de semaines et j'ai passé un long temps à arroser mon jardin, chaque soir. Puis, j'ai reçu la facture de l'eau – ça m'a fait un choc ! Les médias nous ont demandé d'économiser l'eau, puisque les réservoirs devenaient bas. Les Landes étaient si sèches que des feux ont commencé. Combien d'eau il a fallu pour les éteindre ?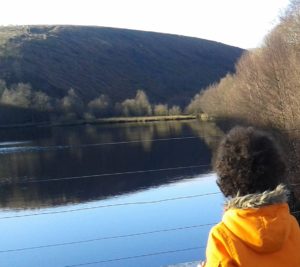 Mais, j'ai été surprise par le goût de l'eau. En Yorkshire, elle a un goût superbe ! Et je me suis rendu compte de cela, quand je suis allée à Londres. L'eau y a mauvais goût– de produits chimiques. Le goût était surtout fort pendant cette longue période sans pluie. C'était si mauvais que ma fille a emmené une bouteille d'eau du Yorkshire quand elle est retournée à Londres.
En Chine, on ne peut pas boire l'eau du robinet. On doit boire de l'eau en bouteille.
Alors, il y a beaucoup de bouteilles en plastique. Personne ne porte de bouteilles réutilisables parce qu'il n'y a aucun endroit où les remplir. Alors, j'ai commencé à penser à l'impact sur l'environnement.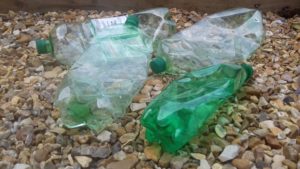 Mais bien que tout le monde utilise des bouteilles en plastique, il n'y avait pas d'ordures ; c'était grâce au nombre de personnes employées en tant qu'éboueurs. Beaucoup de monde !
Aussi, il y avait les sans-abris, ou des personnes pauvres qui ramassaient les bouteilles en plastique afin de les vendre pour de l'argent. Il n'y avait aucune ordure. Les rues étaient très propres.
Nous disions que la Chine recycle la plupart du plastique – plus que le Royaume Uni. Incroyable ! Peut-être qu'il y a une leçon à tirer de tout cela !